BlackPearl 7" 5.8GHz 32CH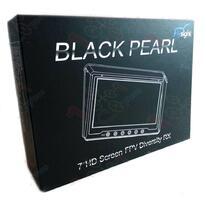 Termék leírás:
BlackPearl 7" 5.8GHz 32CH
7" Deluxe Edition Monitor Black Pearl. 32CH, Compatible with all video 5.8G Tx included FatShark, & ImmersionRC Black Pearl 7" diversity monitor from Flysight. This little gem features a number of upgrades including a built-in tripod mounting adapter (for standard camera screws), a fitted sunshade, built-in 5.8GHz receivers with diversity functionality, and a very bright screen that's easy to see in direct sunlight. The Black Pearl operates on 7-28 volts and includes 11.1V battery 1000 mAh integrated Monitor supports Airwave and NextWave transmitters and many others on 5.8GHz due to the 32channels; ♦ Compatiable with Fatshark,airwave,Immersionrc and others.Fully compatible with 2.4GHz R/C radios; ♦ No Blue Screen With integrated video and dc outputs, you can also run a pair of video goggles right from the monitor. It is the best monitor for FPV in the world!!
Features:
Anti reflective matte screen Built-in for battery It is very bright in daylight 300cd / m² build-in two 5.8GHz video receivers and a diversity system that will automatically select the best video signal It is equipped with an efficient rigid sun hood photo screw to clamp it on standard system (1 /4 " 20 threads per inch WBS ) It has video outputs and Dc output to connect and power other equipmen A composite video input will allow you to display external sources HDMI video input Power 7 - 28V and a DC output for powering a pair of video googles or other equipment (Dcout = Dc in, MAX 1A) Channel selection via button (no more micro switch !) Built in speakers to hear the sound ( from your video Tx or video input sources ) Additional Specifications: Screen Size : 7 " TFT LCD , LED backlight Resolution: 1024 * 600 Brightness : 300cd/m2 Contrast: 700:1 Power supply: 7 - 28V or 3S LiPo Consumption: < 8W Dimensions : 183mm x 126mm x 20mm build-in diversity 5.8GHz equipped with 2 video outputs ( both two channels 5.8GHz ) and 2 video inputs 8 languages available Operating Temp : -10 ℃ ~ 65 ℃ and + Compatible with SMA antenna connector only (the antena must have center needle) 32 frequencies are available Wiresles Working frequency BandCH 1CH 2CH 3CH 4CH 5CH 6CH 7CH 8 A58655845582558055785576557455725 B57335752577157905809582858475866 E57055685566556455885590559255945 F57405760578058005820584058605880 Band F= Band Airwave/FatShark/ImmersionRC Includes: 1x 7 "screen with dversity RC801, with battery integrated 2X omni antennas (duck ruber ) 2X AV Cables 2X Power Cable with JST connector 1x Rigid Sunhood 1X 12V Power adapter